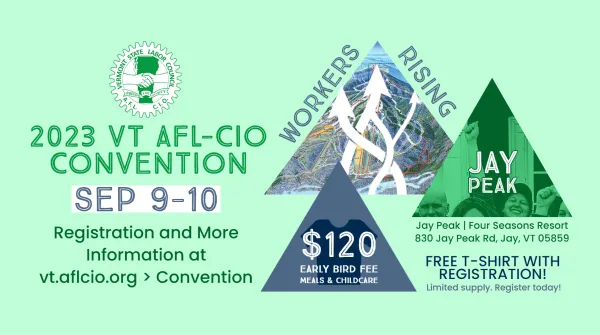 Our VT AFL-CIO Annual Convention will take place on the weekend of September 9-10 at Jay Peak Resort in Jay, Vermont. We will elect a new Executive Committee and Executive Board, debate resolutions, learn how to grow our Locals and the Labor Movement, and have some fun getting to know each other, too. Allies and guests who have supported our movement will also be joining us.
An official Convention Call was mailed to your Local's office in early July. If your Local has not received credential forms, please email Secretary-Treasurer Danielle Bombardier (danielle.ibewlocal300@gmail.com). 
We have created a Convention Bulletin with all the information you need, including registration, booking rooms, childcare, and more. Please note details are subject to change. Please regularly check this Bulletin and our communications to stay updated. 
Registration (Delegates & Alternates)
Cost
$120 Early Bird Registration Fee, if registered by Friday, August 11th. $150 Registration Fee if registered after Friday, August 11th. The Registration Fee covers lunch and dinner on Saturday (9/9), breakfast on Sunday (9/10), and childcare on both days while official business is in session.
How to Register
If you are a member of an affiliated Union Local, your Local will receive credentials in duplicate in the mail. Your credential forms will indicate your Local's number of delegates and voting strength. Credentials were mailed and emailed to your Local by Secretary-Treasurer Danielle Bombardier in early July. If your Local has a new mailing address or you are unsure if we have your most up-to-date address, please email Secretary-Treasurer Bombardier with your Local's updated mailing address at danielle.ibewlocal300@gmail.com.
All Delegates (voting representatives) and Alternates (non-voting representatives that may vote in the absence of a Delegate) must be nominated and elected as delegates and alternates at a meeting of your Local.
Once Delegates and Alternates have been elected by your Local, your credentials must be signed by one of your Local's officers – usually, your Local President. All credentials must be filled out completely. Please be sure to retain a copy of your credential to present at the Convention. Only verified delegates and alternates will be seated.
Mail a copy of your credentials to Secretary-Treasurer Bombardier and include a check covering the registration fee of each delegate and alternate your Local is sending. Checks must be made to Vermont State Labor Council, AFL-CIO, and sent with your credentials to P.O. Box 858, Montpelier, VT 05601.
Registration is not complete until credentials are received and registration fees are paid.
As part of our Ten Point Program (#2 Working-Class Unity), we encourage each Local to actively seek women, black, indigenous, people of color, LGBTQIA, people with disabilities, and young workers to send to our Convention as Delegates and Alternates.
Registration (Guests)
Cost
The Guest registration fee is $30, which helps us cover meals.
Please pre-register here. Please note this is a pre-registration form. Guests who have not been officially invited to our Convention are subject to review and approval by our Executive Board. This is not a public event.
Registration is not complete until confirmed by the Vermont State Labor Council and the $30 registration fee is paid. You may pay the fee online or via check (made out to Vermont State Labor Council, AFL-CIO) and sent to P.O. Box 858, Montpelier, VT 05601.
Registering helps us to plan our event and accommodate everyone. Thank you for taking the time to register.