Old Socialist Labor Hall
46 Granite Street
Barre, VT 05641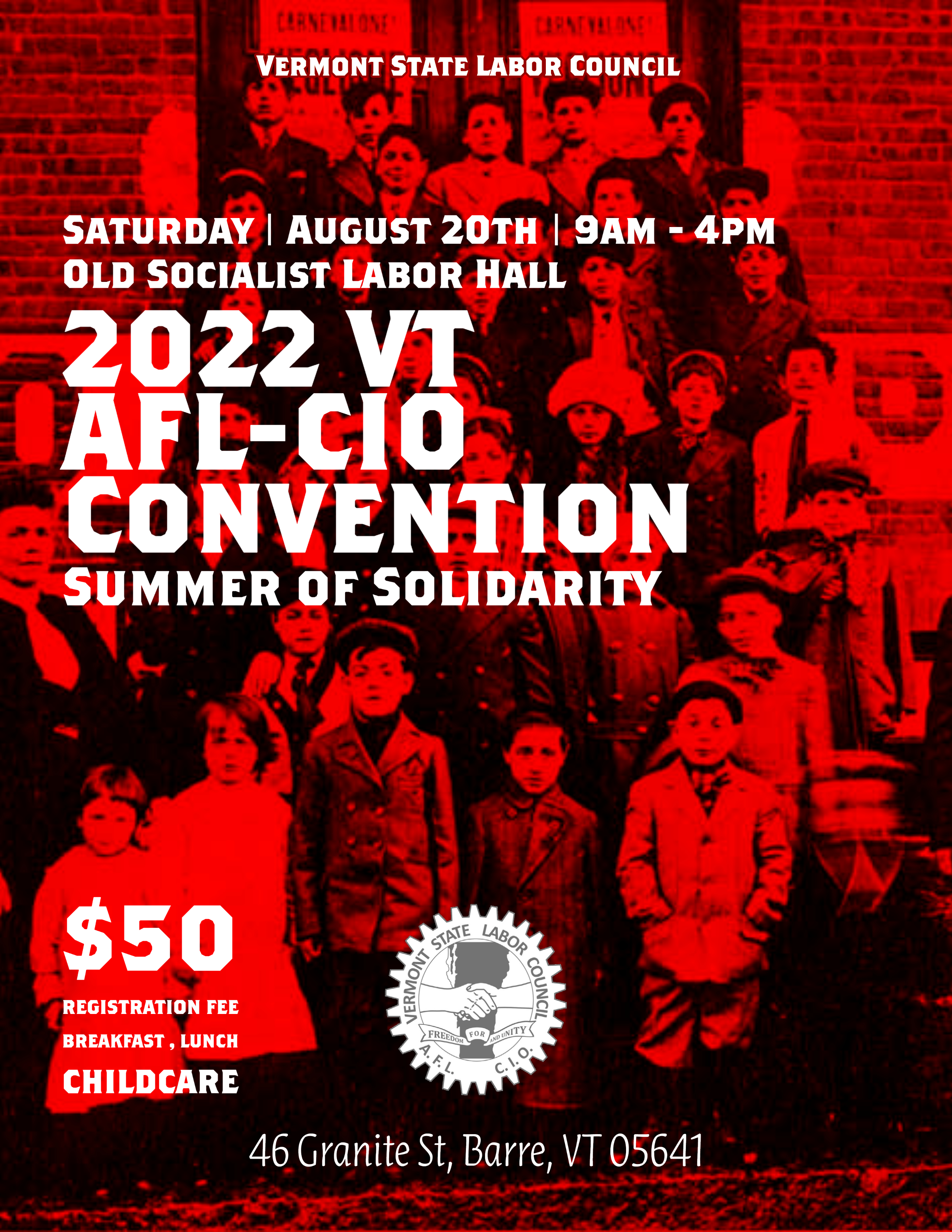 Every year, we hold the only Labor Convention in our state that brings together all workers, across all industries, union and nonunion. Together, we debate crucial issues facing us as a working class to direct our work in the coming year.
There is a lot to discuss, such as inflation, forced births and abortion access, and, always, how we can organize to win in this moment. Join us to help make this a Summer of Solidarity!
As a rank-and-file led organization, we want to hear what issues are paramount for you in this moment and what skills you need to help solve them.
Please send any speaker, presentation, or workshop ideas to Executive Director Liz Medina, vslcaflcio@gmail.com or 802-272-6421.
Credentials in duplicate have been mailed and emailed to all affiliate locals in good standing, per our bylaws. If you need any assistance with credentials, please email our Secretary-Treasurer Danielle Bombardier (danielle.ibewlocal300@gmail.com)
Per our bylaws, all Resolutions must be submitted to our Secretary-Treasurer, Danielle Bombardier by Saturday, August 6th. Please email your Resolution(s) to danielle.ibewlocal300@gmail.com. 
Resolutions should be vetted by your Local membership prior to submission. Resolutions submitted by Locals, as opposed to individuals, will be prioritized. Only affiliate members in good standing may submit resolutions.
Non-affiliate workers -- union and nonunion -- are welcome to attend but still must register, including paying the registration fee, which covers breakfast, lunch, and unionized childcare. Registration for NON-AFFILIATE WORKERS ONLY is here.
All attendees must pay the Registration Fee. Registration fees must be sent via check (made out to Vermont State Labor Council, AFL-CIO) and mailed to P.O. Box 858, Montpelier, VT 05601.
Places to Stay
On Sat night, everyone is welcome to camp on David's land in Moretown. Please email vslcaflcio@gmail.com if you're interested in camping with us in Moretown.
Most Affordable:
Quality Inn: (802) 476-6678
Hilltop Inn of Vermont: (802) 229-5766
Econo Lodge Montpelier: (802) 223-5258
Highly Rated:
Campgrounds: