Coalition to Pass the VT PRO Act Meeting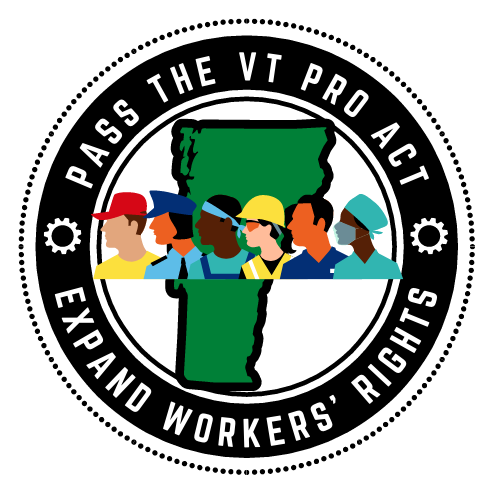 Join us on Thursday, December 1, from 6-7 PM for a meeting of the Pass The VT PRO Act Coalition. Please register HERE for Zoom.
Higher unionization rates benefit all workers, both union and non-union. States with higher rates of unionization also have higher average wages, a smaller uninsured population, and more benefits and protections for workers, including paid family leave and comprehensive healthcare.
The Vermont Protecting the Right to Organize "PRO" Act will protect and advance new union organizing and collective bargaining in Vermont by…
Simplifying the process for forming a union in the public sector;
Making it more difficult for employers to retaliate against workers for organizing activity by ending at-will employment;
Making discriminatory terminations more difficult by ending at-will termination;
Preventing employers from disciplining workers for refusing to attend captive audience meetings, and;
Expanding collective bargaining rights to farm and domestic workers.