Executive VP Katie Harris Speaks to Sold Out Crowd at Labor Night with the Boys in Green!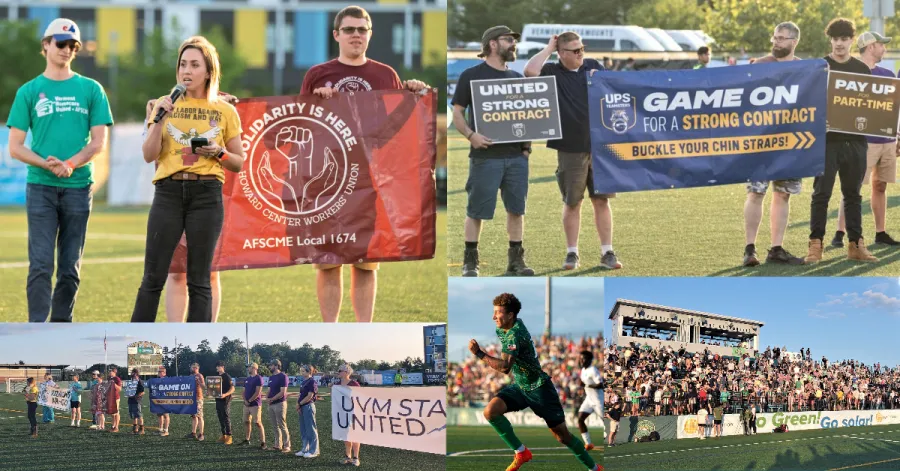 Tonight in Burlington, on this Summer Solstice, it was Labor Night for the Vermont Green Football Club. Not letting down their Union supporters at the sold out game, VT Green shutout the Boston Bolts by a score of 3-0. With this win, the Vermont AFL-CIO's favorite soccer team moved into a tie for first place in the USL Northeast Division. VT Green is now 6-0-2 on the season.
At half time VT AFL-CIO Executive Vice President Katie Harris, from the pitch, addressed the capacity crowd of 2500 highlighting the struggles and victories of Unions across the state, including calling for workers to stand in solidarity with the looming UPS/Teamster strike and to demand passage of the Vermont PRO Act [Harris's full speech is provided below].
Tabling the event was the Vermont AFL-CIO, UVM Staff United/AFT, AFSCME Local 1674, SEIU-CIR, and Teamsters Local 597. Announcing the game to supporters in the stands was AFSCME Local 1343 member Tom Proctor. This marks the second annual Labor Night organized by Vermont Green Football Club and the Vermont AFL-CIO. The Vermont AFL-CIO is an official supporter of the VT Green Football Club and calls on ALL Union members to get out to a game and get behind the team that gets behind us!
***
VT AFL-CIO Executive Vice President Katie Harris's Half Time Speech:
"I stand before you today as both the Secretary of AFSCME 1674 and the Executive Vice President of the Vermont AFL-CIO. It is an honor to address you during this halftime break, as we celebrate not only this beautiful game but also the power of unity and solidarity in the labor movement.
"First, let us reflect on what unions are and why they are essential. Unions are democratic organizations formed by workers who unite to collectively negotiate with their employers for better wages, benefits, and working conditions. They are the backbone of a fair and just society, ensuring that hardworking individuals have a voice in the decisions that impact their lives.
"We've seen a recent victory among UAW 2322, Goddard College support staff union, who secured a new contract that achieved the raises they needed to see and which does NOT include any 'management rights' clause. This achievement ensures that workers have a say in the workplace, preventing unilateral decisions that disregard their rights and well-being. This success reminds us of the power of collective bargaining and the critical role unions play in protecting workers' interests.
"Moreover, statistics show that union members earn significantly more than their nonunion counterparts. On average, union members earn 20% more than nonunion workers. This wage premium is a testament to the strength of unions in advocating for fair compensation and ensuring economic stability for workers and their families.
"Beyond economic gains, unions foster workplace democracy. They provide opportunities for workers to learn how to govern themselves and take control over their lives. Unions empower individuals to have a say in decisions that impact their daily work, creating a more equitable and just environment for all.
"Today, we gather not only to celebrate our many accomplishments but also to welcome our newest union siblings. Let us give a round of applause to the members of Scoopers United at Ben & Jerry's in Burlington!
"Their successful unionization effort reminds us that workers' rights are universal, regardless of the industry we find ourselves in. Together, we can build a more equitable and just society, one workplace at a time.
"We also rejoice in recent cross-union wins, such as the Barre City Community Investment Ordinance. This groundbreaking legislation mandates prevailing wages and benefits for construction workers for all large city-funded projects. By ensuring fair compensation for all workers involved, this ordinance sets a high standard for fair and ethical practices, creating a level playing field for both workers and employers. And though the leadership of the Vermont AFL-CIO and Building Trades Council, since 2019, has now been passed not only in Barre, but also in Montpelier and Burlington!
"Furthermore, let us recognize the incredible achievements of SEIU-CIR, the UVMMC Physician Interns and Residents. Their first contract victory includes a 20% salary increase over 2.5 years, guaranteed annual 4.75% increases, an education fund of $1,800 per year, a meal allowance of $1,800 per year, an additional week of vacation, and numerous health and safety measures. These accomplishments exemplify the power of collective action and the transformative potential of union representation.
"But our work is far from over. We must remain united and vigilant in the face of ongoing challenges. I call upon each and every one of you to support the Vermont PRO Act (S102). This crucial legislation will make it easier for both private and public sector workers to organize. The Senate has already passed it this year with a strong majority of 23-7, and now we must rally together to ensure its passage in the House. Sign our petition, visit our table, and get involved in the fight for worker rights.
"Forming a union, however, is just the first step toward justice for workers. Capitalists want us workers to live in austerity while they live among the riches we produce. Right now, the State of Vermont is trying to renege on its promise to pay bonuses to our homecare workers, largely women, who are some of the hardest working yet lowest paid workers in our state. These bonuses are key to retaining these essential workers. Their union, AFSCME 4802, has a petition, too, demanding that the State pay homecare workers what they have earned. Again, visit our table!
"Another upcoming battle that requires our solidarity is the UPS Contract Campaign. Over 700 drivers in Vermont, along with 340,000 UPS workers across the United States, are preparing for a potential strike. With an overwhelming 97% of voting members approving the strike authorization just a few days ago, the message is clear: workers will not tolerate unfair treatment. Check out and sign the strike pledge, available at our table, to show your support for these hardworking individuals.
"Finally, I urge you to join our Workers' Circles in Burlington, Montpelier, and Rutland. These spaces provide opportunities for individuals to learn about starting a union or strengthening their existing unions. By coming together, we can create a stronger, more resilient labor movement that fights for the rights and dignity of all workers.
"In conclusion, let us remember the power of unity and solidarity. Together, we have achieved great victories, but there is still much work to be done. Let us continue to fight for workplace democracy, fair wages, and safe working conditions. By signing petitions, getting involved, and supporting one another, we can build a future where every worker is treated with respect and dignity. Thank you, and let us march forward together towards a brighter future. United!"