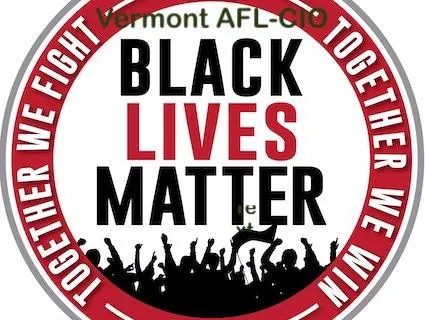 -Self Determination For Black People In The U.S.;
-Free All Black Political Prisoners;
-The Murders Must Be Stopped;
-Black Lives Matter.
Vermont AFL-CIO Position Statement On The Fight Against Racism:
Now Is The Time For Unity & Action!
June 28, 2020, Montpelier, VT - Black Lives Matter. The Vermont AFL-CIO understands and recognizes that the United States of America is a nation which has long been governed by a ruling class whose power (social and economic) is rooted in slavery, racism, inequity, and oppression. We further see with clear eyes that Black people, whose ancestors were brought to this country in chains, have suffered (and continue to suffer) oppression on a massive and inexcusable scale. Such facts are made plain by not only looking at history, but also by looking at contemporary unemployment figures, poverty rates, average household income, incarceration rates, and through policing data. People who are Black are also murdered by American police officers with sickening regularity. George Floyd was not an exception. He, like Breonna Taylor, Michael Brown, Terence Crutcher, Eric Garner, Freddie Gray (to name but a few), was one of the latest in a long line of martyrs going back hundreds of years (and accounting for thousands of taken lives). We must not become numb to these murders. We cannot accept that Black families must educate their children on how to not become the target of unprovoked police violence. We cannot allow systematic racism and police violence against Black people to continue as the regularity that it has always been. Rather, we must resist.
Vermont is not immune to racism and police repression. In our largest City, Burlington, Blacks were the subject of police use-of-force in 20% of all cases over the last seven years, despite composing just 6% of the City's population. And further, throughout Vermont Black people make up 8.5% of the prison population, and account for 2.69% of all State Trooper vehicle stops even though they make up only 1.4% of the total populous. These figures are deeply troubling.
The Vermont AFL-CIO, which of course includes members from all races & nationalities, seeks to be the united voice of Vermont's multi-racial working class. As such, we cannot be silent while the Black community continues to be the subject of oppression and brutality both here at home and across the Nation generally. And for us, this means that we intend to stand with Black Lives Matter. Conversely we will not and cannot stand alongside police organizations when they seek to defend the indefensible; namely the murder and brutalization of Black citizens. Therefore, the Vermont AFL-CIO affirms the following positions and actions:
1. We call on Unions to stand with Black Lives Matter, to stand with the Black community, and to organize in these communities to widen and strengthen a united multi-racial Labor Movement and to NOT organize any new police groups into the ranks of Organized Labor;
2. We support Black self-determination in the United States, as the fate of the Black community must be defined by the Black community itself;
3. We state our allegiance with those in the Black community who take action in their own self-defense;
4. We state our allegiance with all those who have and continue to engage in uprisings throughout the United States in resistance to racism, police brutality, oppression, and economic exploitation;
5. We ask our Vermont rank & file Union membership to support Black Lives Matter and to take part in the demonstrations being organized across the Green Mountains against racism, against police brutality, and for adequate investment in the expansion of social programs as opposed to the funding of a system which criminalizes and brutalizes Black, Brown, Native American, and low income people;
6. We call for a Union led Green New Deal economic recovery that advances the needs of Black, Brown, Native American, low income, and working class people;
7. We call on State and Federal Governments to release all Black and allied political prisoners incarcerated for actions alleged to have been taken while fighting against racism and for Black liberation while serving in, or allied to the Black Panther Party, the Black Liberation Army, and Republic of New Afrika. We further commit the sum of $1000 to the Jericho Movement, an organization that advocates for and seeks to defend political prisoners within the United States. And here we encourage the National AFL-CIO to contribute a sum of $100,000 to the Jericho Movement;
8. We call for the State of Vermont to fundamentally re-think how we, as a society, approach public safety;
9. We call on the Vermont General Assembly to immediately pass meaningful police reform that includes the outlawing of chokeholds (with no loopholes or exceptions), and the creation of the nation's highest bar for any and all use-of-force (and we condemn any and all who oppose such immediate reforms as reactionaries on the wrong side of history);
10. We call on the Vermont General Assembly to pass legislation creating a statewide Citizens Police Oversight Commission vested with subpoena power;
11. We further call on the Vermont General Assembly to reduce the State Police budget in order to reallocate funds to social programs, especially programs that benefit Black, Brown, Abenaki and low income communities;
12. We call on the City of Burlington to reduce their Police budget by 30% in order to reallocate funds to social programs, especially programs that benefit Black, Brown, Abenaki and low income communities;
13. We commit to supporting and advancing the creation of Black and People of Color (POC) caucuses within the Vermont AFL-CIO in order to better guarantee that the needs, desires, and concerns of Black and POC Union members are articulated and advanced by our State Labor Council;
14. We assert that all efforts and programs aimed at transforming society according to the notions of equity and anti-racism which are advocated for herein, be led by those communities most impacted by the wrongs we are seeking to overcome, and whom stand to gain through such a transformative process;
15. We commit an additional sum of $1000 to Black Lives Matter of Greater Burlington in order to support their efforts to combat racism and to defend Black communities;
16. And finally we call on non-AFL-CIO Labor Unions in Vermont to join us in supporting Black Lives Matter, in more than just name, and adopt the commitments listed herein;
The VT AFL-CIO, representing 10,000 working class Vermonters opposes all forms of racism and discrimination. We know what side we are on. We say without hesitation "Black Lives Matter."
UNITED!
-The Vermont AFL-CIO